Byron, Petanque & VOMPC – Life in Sonoma
Byron was a bit of a loner. He was something of a conundrum both as my father and as a friend. He was a private man, but a very involved man who loved being with people. He could be so gregarious that you thought you knew him well and always welcomed his company. He made only a few closely bonded friends in his life, I suspect the hard times he survived as a youth made him very independent, but he honestly loved making casual friends of almost everyone he met. He was a real charmer. He was a regular figure at the Sonoma Petanque courts in Depot Park, just behind the Sonoma old historic town square. You would find him either sitting in the shade of the big tree in his folding chair chatting with someone, or in a game, perfecting his excellent skills at Pointing and constantly surprising those few who underestimated that skill by taking the point at the last moment.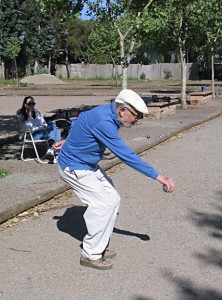 Byron fell in love with Petanque back in 1988, introduced by a group of French Locals. In 1990 a cadre of Sonoma locals got together and created the Valley of the Moon Petanque Club (VOMPC). Due to the large population of French living among the Vineyards of Sonoma Valley, the growth of the club quickly filled with both beginners and seasoned players, including Byron. By 1995 the Sonoma club had the largest membership of any Petanque club in the US. Byron loved the sport and he loved the camaraderie. When you just drop by the Petanque courts at no particular time, you get in "pickup games" with whomever happens to be there. After a while, everyone in the club becomes a teammate in one game, and your opponent in another. It's good natured, very spontaneous and the joining together process suited dad well. The luck of the draw brought new people into his life daily.
He played several times a week, played often in tournaments, acted as club President in 1995, and volunteered to gather material and edit the club newsletter, a labor of love that he continued for 7 years. Byron also became one of the greatest recruiters of new players. He is generally credited with having a large influence on swelling the club to over 170 members, helping to bring more women and young players into the game, sitting on club boards, helping to create the rules of conduct, and probably being the most charming and gracious booster of the game in the club. It created a fitting final chapter for Byron. A new career actively enjoyed in his retirement years. Something that always made him smile.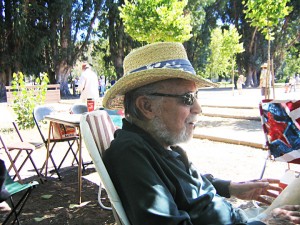 Byron always got the most out of being part of something. In business projects, in his association with creative arts, as a member of numerous associations, boards, organizations – his resume only hints at a small part of his desire to belong with comrades putting his creative energy to work to achieve and promote something. Petanque was no different. Some spirited competition, new friends, a new sport that went well with the great wines of Sonoma Valley, Byron felt right at home.


In 1998, the VOMPC Board of Directors by unanimous vote, awarded Byron with a special lifetime membership. The special honor went to Byron for "his steadfast loyalty, his valuable counsel and his constant support".
For over 20 years, Byron played Petanque quite actively with VOMPC. The last few visits I made to Sonoma to see my parents, Dad would take me aside conspiratorially, and ask if there was a way I could secretly sneak him out and take him over to the Petanque courts just to throw a few boules. We both knew it was an impractical request, but he smiled broadly at the thought, his spirit always playful to the end.
Byron R. Mayo
December 6, 2012